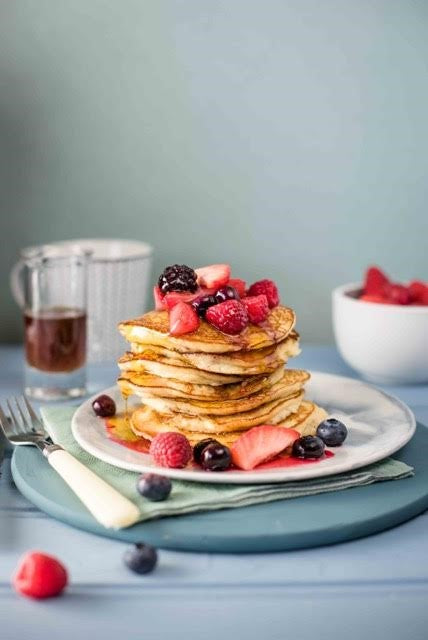 Ingredients
120 g of Quinola Flour
2 tbsp of baking powder
1 1/2 tbsp of sugar
A pinch of salt
1/2 tsp of cinnamon
240 ml of milk or almond milk
2 egg whites
1/2 tsp vanilla extract
100g diced strawberries or mixed berries for topping and garnishing
500 ml of water
       Sauce
450g of strawberries, diced
2 tbsp of maple syrup
1 tsp of vanilla extract
Combine the strawberries, vanilla, and maple syrup in a bowl.
Bring them to a boil then reduce the heat to medium low and let them simmer for 8-10 minutes stirring occasionally.
Once the sauce has thickened, remove from the heat and serve it on top of the pancakes.
Instructions
Whisk together Quinola Flour, baking powder, salt, and cinnamon, in a large bowl.
Whisk together milk, egg whites and vanilla, in another bowl.
Pour the other bowl into the large one and stir together until ingredients are combined.
Add diced strawberries to batter. Careful not to overmix.
Cover and refrigerate for at least 30 minutes to an hour.
Start scooping batter into the pan to make pancakes.
Let them cook until bubbles form in the batter then flip them and cook the other side until they become lightly browned.
Serve warm topped with fruits and sauce.