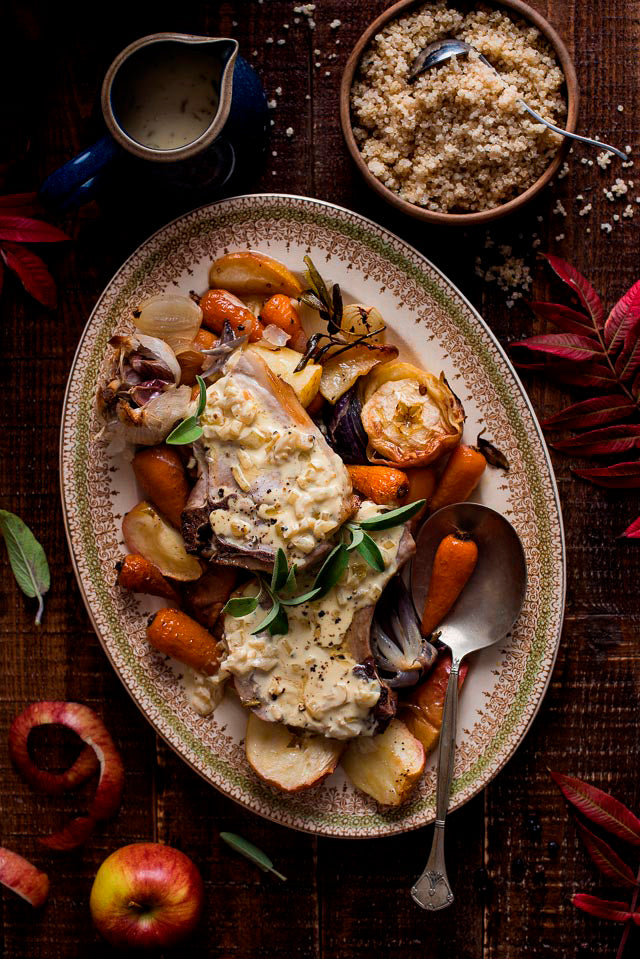 Ingredients
1 red onion peeled and quartered
2 white onions
1 whole garlic bulb (unpeeled)
2 carrots, peeled and quartered or use small chantenay carrots
3 apples peeled and quartered
small bunch of fresh sage
2 tbsp oil (sunflower or olive oil)
salt and pepper
2 pork chops (for a vegan option, use tempeh and add all the same flavourings)
Cooked white Quinola Quinoa to serve
knob of butter
200 ml of apple cider or apple juice
1 stock cube (pork or chicken)
200ml double cream
4 sage leaves
50ml water


Method

Preheat the oven to 200˚C.

Place all of the vegetables in a large roasting tin and drizzle with oil.

Then season with salt and pepper, place about 6 sage leaves on the top and roast for 25 minutes.

After 25 minutes place the pork chops on the top, lower the temperature to 180˚C and roast for another 20 minutes.

Meanwhile, make the sauce.

Creamy apple cider sauce:

In a medium frying pan, melt the butter on a medium heat and add the diced onion.

Fry slowly until soft and translucent.

Add the cider and cook for a few minutes until the liquid reduces by half.

Add the double cream, water and sage.

Simmer gently for a few minutes.

Add salt and pepper to taste.

Add some of the roasted garlic from the roasting vegetables (squeeze the roasted garlic out from the husk).

Serve the pork with roasted apples and vegetables, sauce and quinoa.