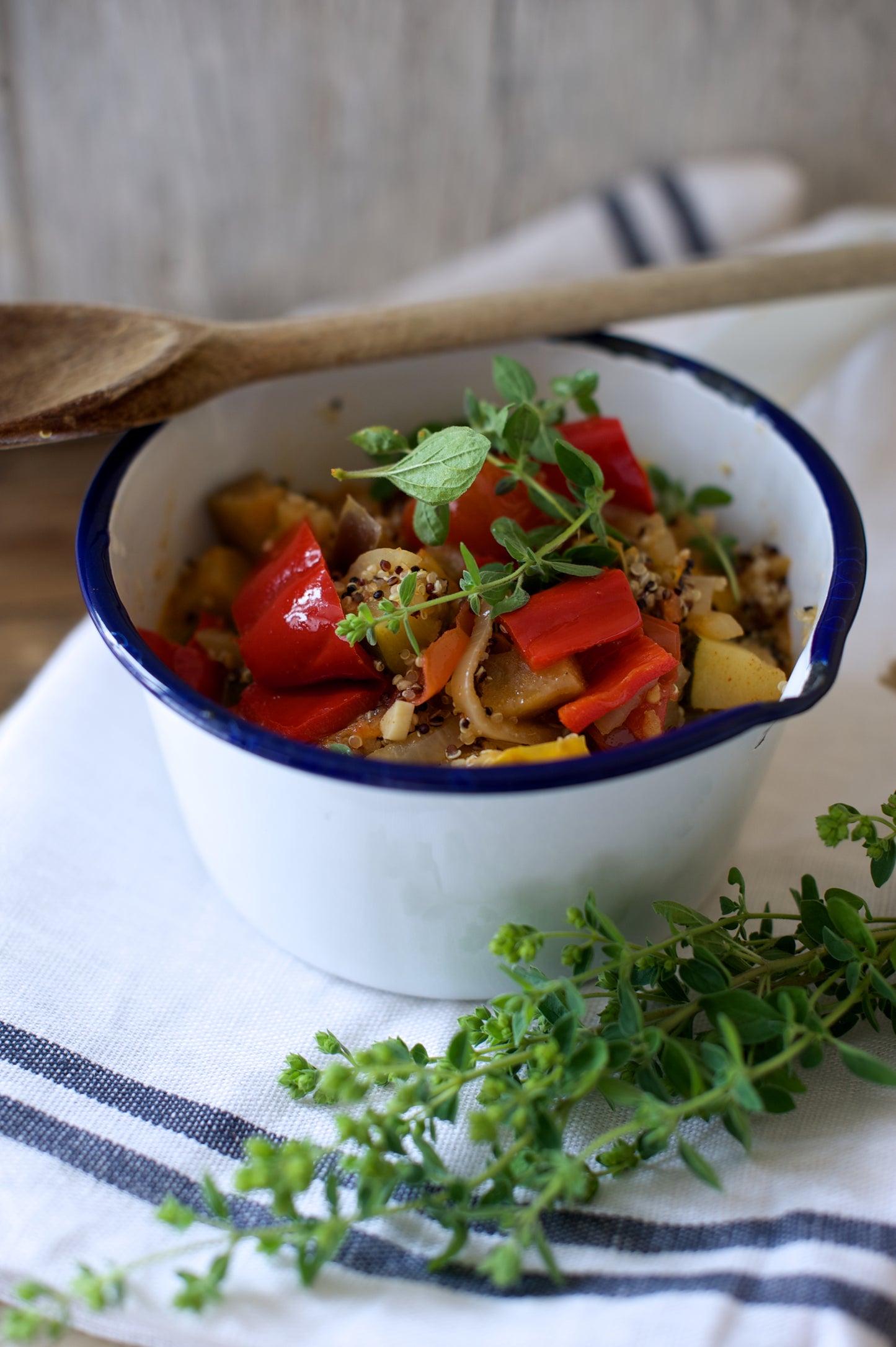 Ingredients
½ cup quinoa 80% pearl and 20% black quinoa mix
1 cup water
2 cups chopped onions
2 garlic cloves, minced or pressed
1 tablespoons vegetable oil
1 celery stalk, chopped
1 carrot, cut on the diagonal into ¼-inch thick slices
1 bell pepper, cut into 1-inch pieces
1 cup cubed zucchini
1 cup of aubergine
2 cups undrained chopped fresh or canned tomatoes
1 cup water or vegetable stock
2 teaspoons ground cumin
½ teaspoon chili powder, or more to taste
1 teaspoon ground coriander
Pinch of cayenne, or more to taste
2 teaspoons fresh oregano or 1 teaspoon dried oregano
Salt, to taste
Chopped coriander


Method
Place quinoa and water in a pot (covered) and cook covered on medium-low heat for about 15 minutes until soft.

While the quinoa is cooking, place the onions, garlic and vegetable oil in covered soup pot and sauté on medium heat for 5 to 8 minutes or until slightly caramelized.

And celery and carrots to the soup pot and cook an additional 5 minutes, stirring often.

Add the bell pepper, zucchini, aubergine, tomatoes, and one cup of water or vegetable stock to the soup pot.

Stir in cumin, chilli powder, coriander, cayenne and oregano to the soup pot.

Simmer covered for 10 to 15 minutes or until vegetables are tender.

Stir in cooked quinoa and salt to taste.

Top with coriander if desired, and serve immediately.