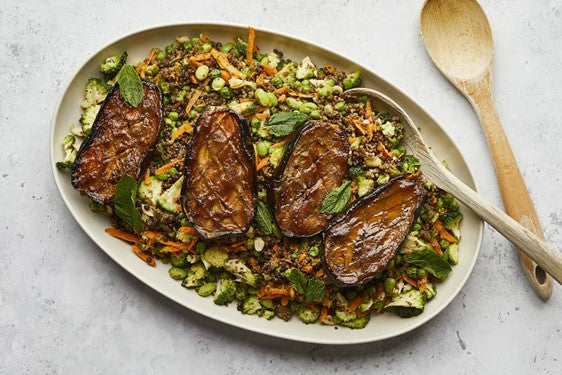 Ingredients
20g whole almonds (Nuts)
2 aubergine
1 head of broccoli
1 carrot
100g fresh edamame beans (Soya)
1 lime
2 tsp maple syrup
1 handful of fresh mint
1 tbsp sesame oil (Sesame)
20g roasted peanuts (Peanuts)
500g puy lentils & wholegrain quinoa
150g peas
4 tbsp white miso paste (Soya)
Method
Preheat the oven to 240C / fan 220C / gas mark 9. Halve the aubergines lengthways, then cut a criss-cross pattern into the flesh (careful not to cut the skin). Place onto a lined baking tray and rub with 2 tsp oil and a pinch of sea salt. Turn, skin-side down, and roast for 15 mins.
Place the edamame beans in a small saucepan on high heat and cover with salted hot water. Boil for 3 mins, until cooked. Drain, then rinse under cold water.
Coarsely grate the carrot (peel optional). Cut the broccoli into florets, then roughly chop into small pieces. Zest and halve the lime. Roughly chop the almonds and peanuts. Pick the mint leaves from the stalks and finely chop half.
Place the lentil and quinoa mix into a large bowl with the edamame beans, peas, carrots, broccoli, almonds, peanuts, mint and zest. Add the sesame oil and juice from the lime and toss to combine. Season generously with sea salt.
Mix the maple syrup and miso in a small bowl. After 15 mins of roasting, remove the tray from the oven. Spread the miso mixture over the aubergines and return to the oven. Roast for another 15-18 mins, until soft and golden.
Serve the quinoa and lentil salad in bowls with the roasted miso aubergine. Garnish with the remaining whole mint leaves.