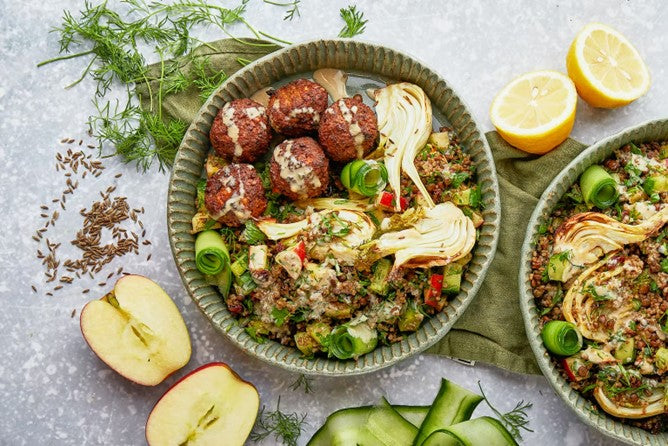 Vegan. Serves 2. 15 minutes. 
Ingredients
1 apple
1 handful of fresh coriander
1 midi cucumber
2 tsp cumin seeds
1 handful of fresh dill
1 fennel head
1 lemon
1 tsp maple syrup
2 tsp pumpkin seeds
20g raisins
1 tbsp tahini (Sesame)
250g puy lentils & wholegrain quinoa
200g Moroccan falafel with red pepper & apricot
Method
Preheat the oven to 220C / fan 200C / gas mark 7. Slice the fennel into 8 wedges. Place onto a lined baking tray and toss with 1/2 tbsp oil, half the cumin seeds, a pinch of sea salt and black pepper. Roast for 10-12 mins, until golden. After 5 mins, add the Moroccan falafel to the tray and continue roasting, until the falafels are heated through.
Place the raisins into a small bowl and cover with hot water, then leave to rehydrate. Roughly dice the apple and cucumber into 1cm cubes. Zest and quarter the lemon. Finely chop the coriander and dill.
Make the tahini dressing; in a small bowl mix the tahini, maple syrup, juice from 2 lemon wedges, a splash of water and a pinch of sea salt. Stir to combine.
Heat a medium frying pan with 1/2 tbsp oil on medium heat. Add the lentil and quinoa mix and cook for 2-3 mins, until heated through. Drain the raisins then add to the pan along with the pumpkin seeds, zest, dill, coriander, apple and the remaining cumin seeds. Remove from the heat and add the juice from 1 lemon wedge, a pinch of sea salt and black pepper.
Stir the roasted fennel through the quinoa and serve on warm plates. Top with the falafels and drizzle over the tahini dressing.