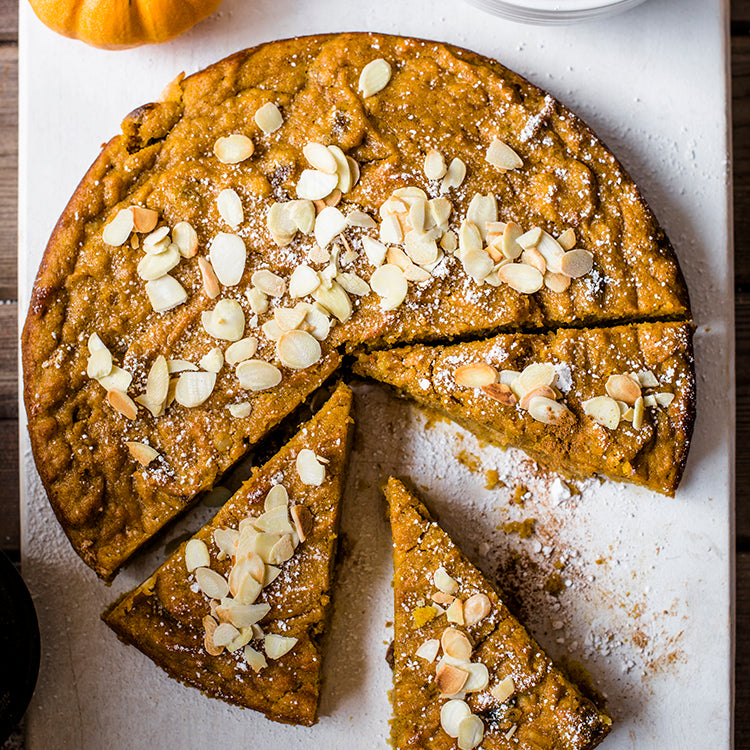 Ingredients
70g of dry raisins
425g of pumpkin purée
150g of unsalted butter
150g of caster sugar
3 teaspoons of spice mixture
Zest of 1 orange
1 teaspoon of ground cinnamon
80g of quinoa flour
1 teaspoon of gluten-free baking powder
2 separated eggs
Ice sugar and flake almonds for garnish


Method
Serves 6 people.

Put the dry raisins in a bowl. Cover with boiling water and soak for 6-8 minutes. Drain and set aside.

Preheat the oven to 160 ° C and butter pan (23cm diameter)

Melt the butter and mix it with pumpkin purée. Stir in sugar, orange zest, raisins and spice mixture. Sieve the flour and the baking powder. Stir in the egg yolks.

Beat the egg whites until stiff peaks are obtained. Incorporate them slowly into the preparation. Distribute the mixture into the pan and cook for 45/50 minutes – or until the knife blade comes out clean.

Let cool and garnish with almonds flakes and ice sugar.