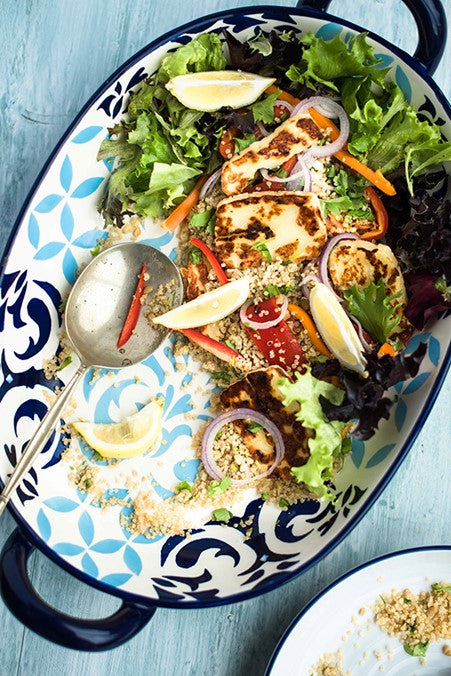 Ingredients
3 tbsp extra-virgin olive oil
1 small red onion, sliced
1 large roasted pepper from a jar, thickly sliced, or a handful of ready-roasted sliced peppers
200g black, red and pearl Quinoa mixed
small bunch flat-leaf parsley, roughly chopped
zest and juice 1 lemon
250g pack halloumi cheese, cut into 6 sliced
Fresh red and orange peppers finely sliced
Mixed salad leaves
Preparation
Boil the Quinola with stock or Boullion for 14 minutes or use a packet of the Express instead for ease.

Cut the halloumi into 6 slices and cook in a preheated frying pan, turning occasionally until it turns golden brown on each side.

Slice the roasted pepper along with the onion, fresh peppers and parsley and toss together with the salad leaves.

Sprinkle over the cooked Quinola, then add the cooked halloumi and dress with a drizzle of sesame oil and the zest and juice of 1 lemon.

To make this recipe in half the time, try adding one of Quinola's Express pack instead of cooking the grains from scratch!