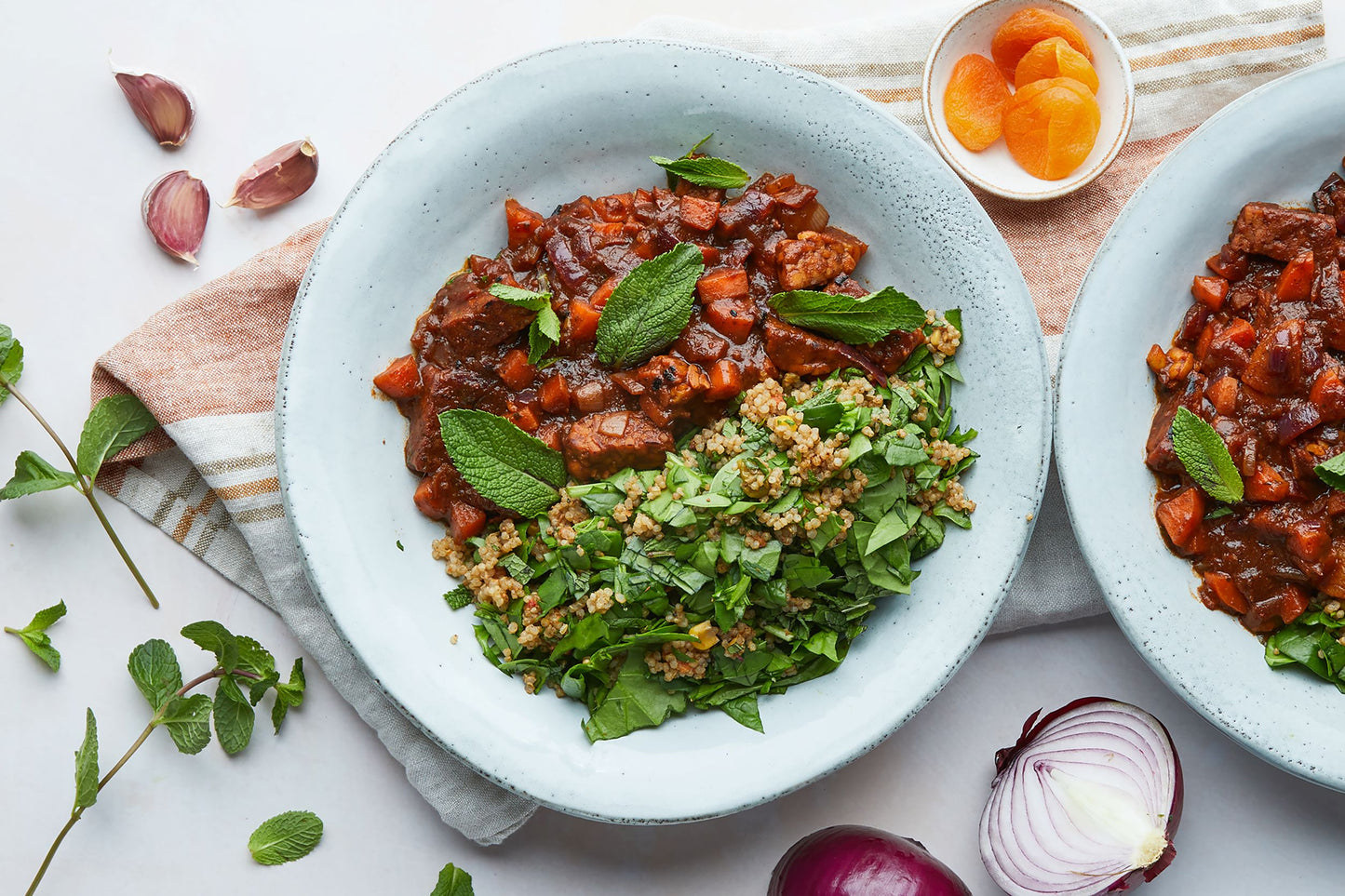 Ingredients
4 dried apricots (Sulphites)
2 tbsp tagine paste
1 carrot
2 tbsp maple syrup
1 handful of fresh mint
1 red onion
80g baby spinach
1 vegetable stock cube (Celery)
200g tempeh pieces (curry flavoured) (Soya)
2 tbsp tomato puree
250g golden vegetable quinoa
1 tsp garlic puree
1 tbsp ras el hanout style seasoning
Cooking Instructions
Boil a half-full kettle. Dissolve the stock cube in a jug with 300ml boiling water. Heat a medium frying pan with 2 tsp oil on a medium heat. Add the tempeh cook for 3 mins, turning regularly, until golden.
Meanwhile, finely slice the onion. Quarter the apricots. Peel the carrot and dice into 1cm cubes. Add the onion and carrot to the tempeh and cook for 5 mins, until softened, then add the garlic. Cook for 1 min, then stir through half the ras el hanout, tomato puree, tagine paste and maple syrup. Pour in the stock, add the apricots and simmer for 6-8 mins.
Heat a separate large frying pan with 1 tsp oil on a medium-high heat. Add the quinola and break up with a wooden spoon. Add the remaining ras el hanout and a splash of water and cook for 2-3 mins, until piping hot.
Meanwhile, remove half the mint leaves from their stalks and finely chop. Gather the spinach into a tight bunch and finely chop. Add the spinach and chopped mint to the the quinola and remove from the heat; season with sea salt and black pepper.
Serve the tagine with the spinach and mint quinola. Garnish with the remaining whole mint leaves.