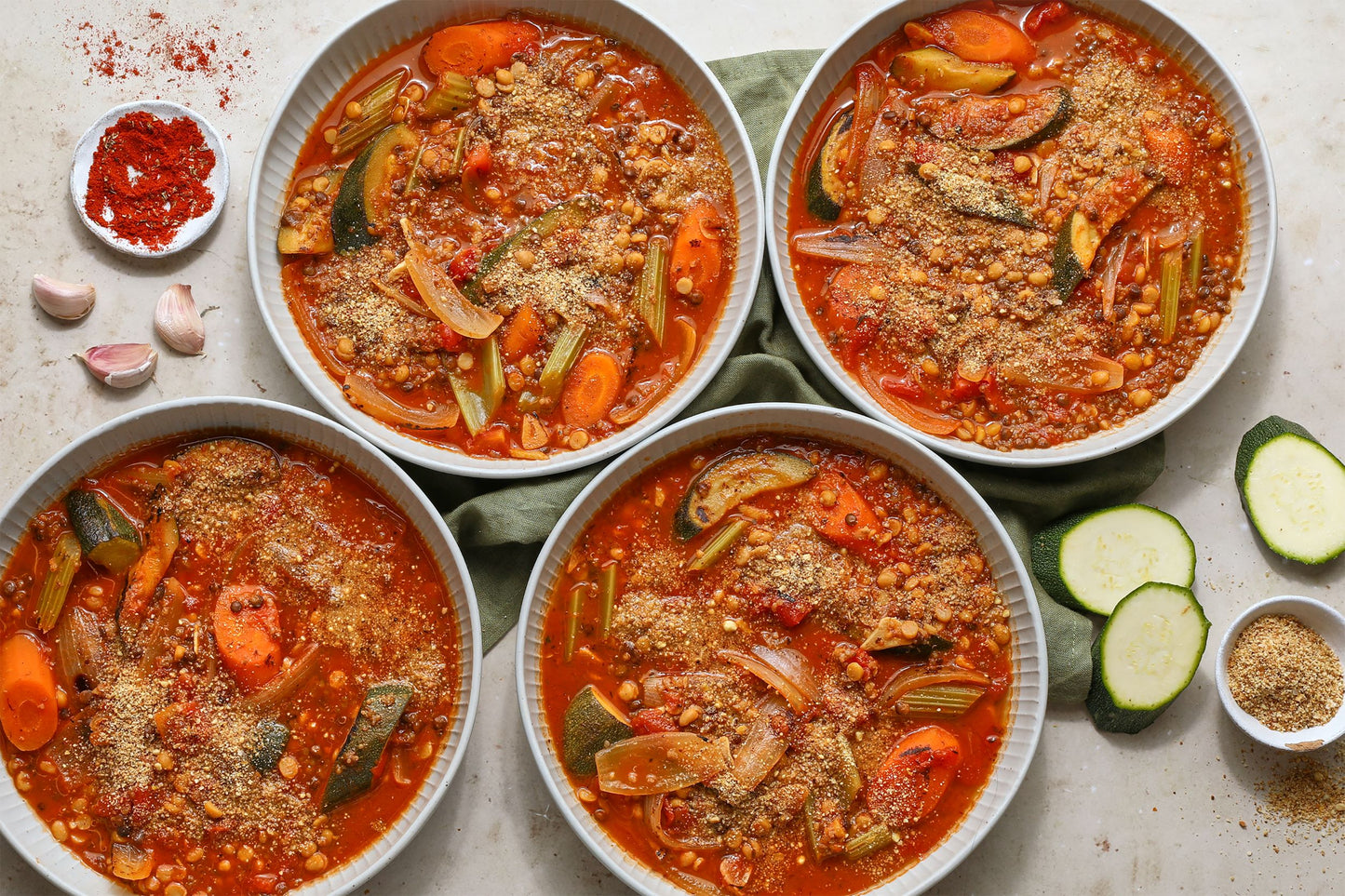 Ingredients
6 tbsp ground almonds (Nuts)
2 x carrot
120g celery (Celery)
200g chana dal lentils
400g chopped tomatoes
2 courgette
4 garlic clove
2 tbsp nutritional yeast
1 brown onion
1 vegetable stock cube (Celery)
40g cashew parm cheez (Nuts)
250g puy lentils & wholegrain quinoa
2 tsp smoked paprika & oregano blend
Cooking Instructions
Boil a kettle. Dissolve the stock cube in a jug with 600ml boiling water. Finely slice the garlic. Slice the onion into 6 wedges. Cut the carrots into 1/2cm thick discs (peel optional). Cut the celery into 2cm chunks. Slice the courgettes into 1/2cm thick half-moons.
Make the cheez crumb; heat a large, deep frying pan on medium-high heat. Add the ground almonds and parm cheez and toast for 2-3 mins, stirring regularly, until golden brown. Remove and set aside.
Turn the heat to high and add 3 tbsp oil to the frying pan. Add the prepped veg and spice blend. Cook for 5-7 mins, until golden brown. Add the nutritional yeast, stock and chopped tomatoes to the pan and stir. Simmer for 5 mins.
Add the lentil and quinoa mix and the chana dal lentils to the tomato broth. Simmer for 6-8 mins, until slightly thickened. Season with sea salt and black pepper.
Serve the soup in bowls and sprinkle it with the cheez crumb.