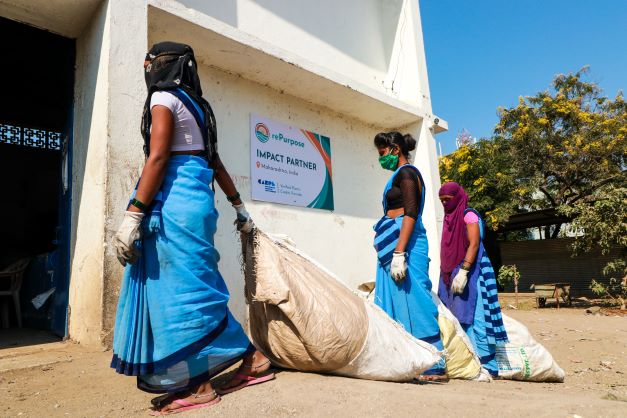 We have partnered with RePurpose to tackle plastic pollution. They collect 14 million 1bs of plastic in 5 different countries annually.
Plastic pollution
One of the RePurpose projects in India is Anant Pranay. In Hindi, Anant Pranay means endless love and there are 27 workers in this female-owned business. Set up to solve plastic pollution by the collection and ethical processing of low-value, soft plastic. If not collected, this is dumped and often obstructs drainage systems. Otherwise it's burnt illegally.
One of the problems with soft plastics is that, compared to hard plastic, it's harder to recycle and that makes it less valuable  The majority of workers collecting it can't afford healthcare or education.
The Project
This is where Project Anant Pranay helps. To make it more attractive to collect, soft plastics is given a value. Workers will then segregate, clean, and transport it to cement kilns to be processed. This generates a cleaner energy, and compared to coking coal is more environmentally friendly.
So far, thanks to their community and partners like us, 255,442 kgs of plastic waste is collected annually. That's equivalent to 127 million plastic bags or 14.1 million plastic bottles!
To learn more about RePurpose check out their website: https://www.business.repurpose.global/
Check out other schemes we're involved in to tackle plastic and carbon pollution https://quinola.com/generous-revolution/