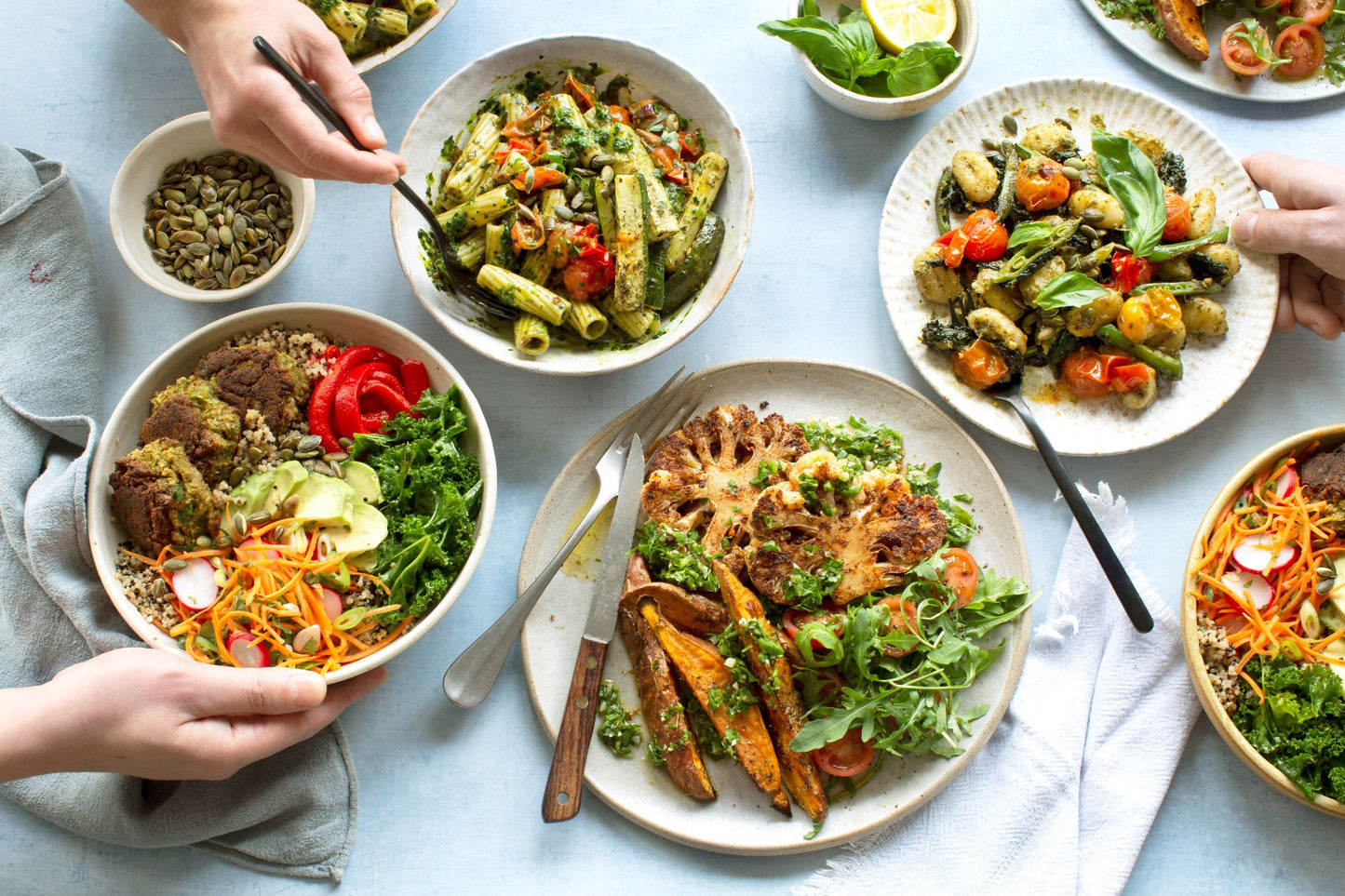 January is the start of a new year, a time for new beginnings, resetting or re jiggling to start planning the year ahead a bit differently to the year before!
Usually people take this time to make drastic changes to diet and lifestyle that unfortunately don't seem to pass into February. The reason for this? It's just not sustainable! As part of the new-year reset we are focusing on the small simple steps you can do that make a difference to yourself and the planet. And that might actually last!
We will be sharing 10 simple ways to eat more plants this year. Going completely plant-based is usually a daunting move to most, although growing in popularity it still seems like a huge jump. Every step counts and making the decision to eat more plants and less meat is a great one for both your health and the planet!

So here are 10 simple tricks to eat more plants

1. Make a routine and start slow. Choose one day of the week that you dedicate to being completely meat free; be that flexi-Friday, tofu Tuesday or meat-free Monday this small change is one that is doable and more likely to stick!

2. Replace meat with 'meaty' veg! There are many plants out there that mimic that rich, earthy meaty flavour and even texture such as mushrooms, lentils and aubergine. This means you don't have to give up on those classics you love like lasagne, burgers and burritos.


3. Plan the meal around the plant. Usually a meal is centred around the meat with the veg as a side, try swapping this around! Try having a roasted aubergine, baked sweet potato or mushroom and lentil bake as the star of the show!

4. Make convenient swaps. The amount of vegan alternatives has sky rocketed in the last couple years making it much easier to find an alternative that is right for you. Try a plant -based yoghurt or milk alternative (Rude Health have some great ones!).

5. Have a favourite meal. Have a staple plant-based meal that's easy, tasty and simple enough to become something you can whip up after a long day at work. Why not try this. 

6. Start your day with a plant-based breakfast – Start your day off on the right foot by enjoying a delicious plant-based breakfast. Try a bowl of cooked quinoa topped with fresh fruit, nuts, and a drizzle of honey. Or make a smoothie with your favourite frozen berries, banana, almond milk, and a scoop of quinoa.

7. Add more veggies to your plate – Incorporate a variety of colorful vegetables into your meals throughout the day. Roast, steam, or sauté your favourite veggies and add them to salads, soups, or casseroles.

8. Use quinoa in place of rice or pasta – Quinoa is a great source of plant-based protein and makes a delicious alternative to rice or pasta. Try making a quinoa-based stir fry for dinner, or use it as the base for your favourite salad.

9. Try plant-based snacks – Snacking on plant-based foods is a great way to get more plants in your diet. Try a handful of nuts or seeds, a piece of fruit, or a quinoa bar for a quick and easy snack.

10. Choose easy grab and go plant based foods options. Try some of our instant quinoa pouches that are full of plant- based protein and fibre and are ready-to-eat. Here's a super quick and easy recipe using our express spicy Mexican quinoa for an easy and tasty lunch in a hurry!

These ten simple tips are a great starting point for incorporating more plants into your diet this January. With a little bit of creativity and some delicious quinoa recipes, you can make plant-based eating part of your regular routine. Here's to a healthier and happier 2023!