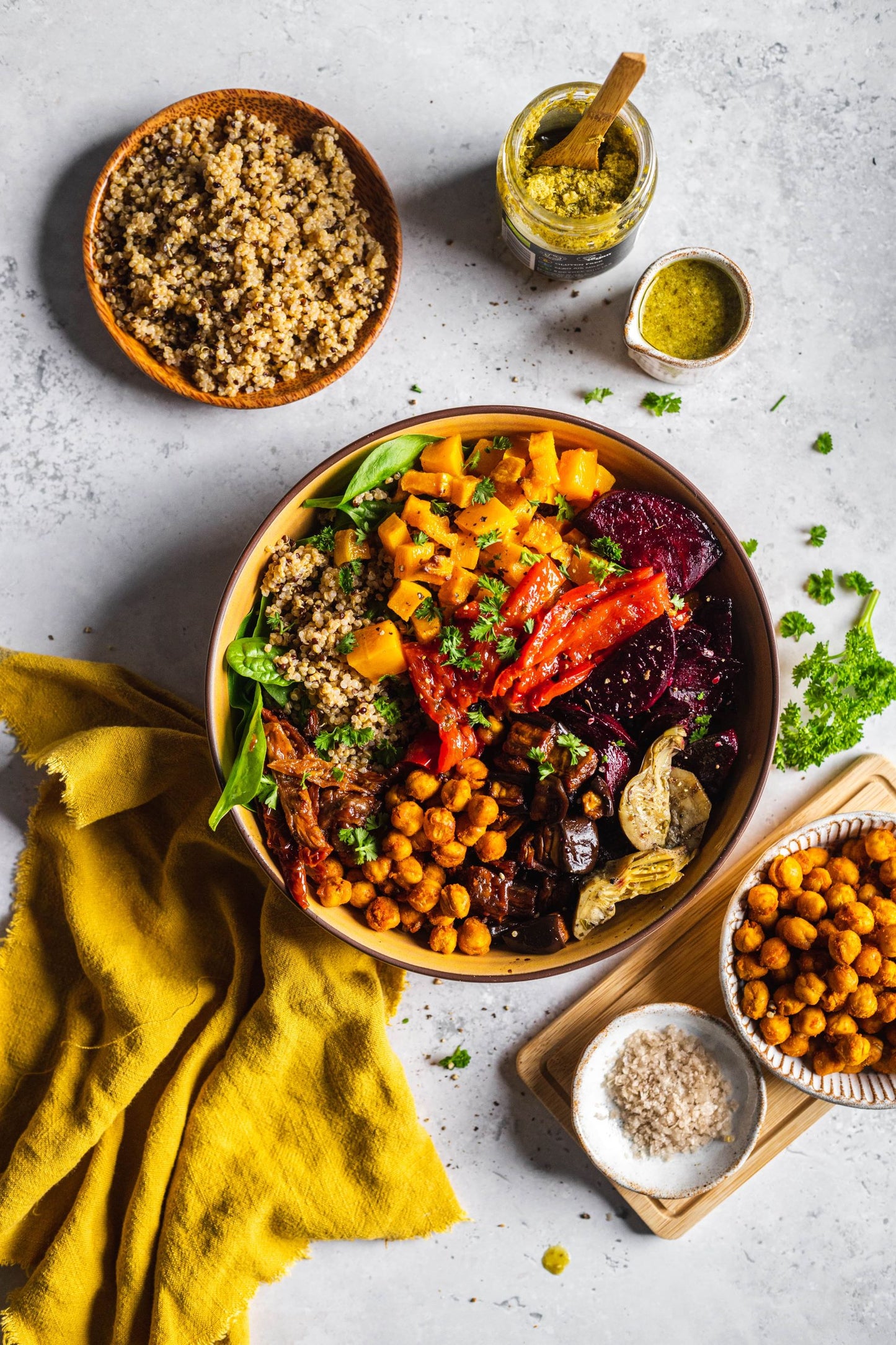 Most days of the week, lunch is a much deserved midday break! You want a nutritious meal, that is quick and easy to make, bursting in flavour, and will fuel the rest of your day.
Even if you only have 10 minutes, whether that be at lunch or meal prepping in the morning, it is still enough time to make a lunch you very well deserve!
Here are our top 10 nutritious lunches you have to try.
Asian inspired Crunchy Quinoa Salad
This salad is perfect for meal prep and can be prepared in less than 10 minutes. Bursting with colour and flavour this is surely a meal to revive your lunch break. Think salty peanuts, fresh coriander and sweet and spicy ginger. Also as quinoa is a slow-release carb, this salad will not leave you unsatisfied. Quinoa gives a slow-release of energy into your body to fuel the rest of your day.
 Quinoa Protein Punch Salad
A punchy salad packed with protein has every muscle in your body screaming gratitude. Using a mix of quinoa to add texture and flavour this salad is perfect for athletes, diabetics & anyone wanting good nourishing food.
 Easy and Quick Cauliflower Quinoa Curry
This heart-warming meal is perfect to batch cook ahead of a busy week and serve with some Quinola Instant Wholegrain Quinoa that can be eaten as is or heated up in 90seconds. Quinoa is a complete plant protein and packed with fibre so a perfect substitute to rice.
 Zingy Spicy Mexican Quinoa Bowl
Take a trip to Mexico with this super easy, ready in 5 minutes, quinoa bowl. Combing Quinola Spicy Mexican Quinoa with spicy jalapeño peppers, beans, sweetcorn and fresh avocado. This is a perfect meal for when you are in a rush.
 Quinoa Feta Wraps
This super simple meal can be prepared in under 10 minutes and will never disappoint! Choose from a range of our instant quinoa to pair with feta, tomatoes and cucumber for a super tasty wrap.
 Healthy Egg-Fried Quinoa
A twist on a classic dish. Substituting rice for quinoa is a great swap to add more protein and fibre into you meal and give you a feeling of fullness for longer as it has a lower Glycemic Index. It can also be prepared in 10 minutes!
 Green Quinoa Salad With Lime and Tahini Dressing
This nutritious salad is brought together with a zingy dressing for a fresh and balanced meal.
 Mindfulchef Warm Salmon Quinoa and Lentil Salad
Simple and satisfying: this is exactly what a salad should be. We make it easy with a ready-to-go mix of fibre-rich quinoa and lentils. Flake over tender hot-smoked salmon for even less faff. Scatter over crunchy radish and vibrant dill. Finish with crisp salad leaves, the essential green. A salad to give you fuel for your work day ahead.
 Mindfulchef Hearty Italian Tomato and Mixed Grain Soup
Vitamin-rich tomatoes, sweet carrots and soft courgettes simmer with fibre-rich lentils. Ground almonds, cashew parm cheez and nutritional yeast give it a decadent cheesy flavour. Get your spoons ready! This is a perfect meal to prep ahead of a busy week so you can reheat and enjot with no faff.
 Cheesy Skillet Quinoa
Bursting with Spanish flavours, this one pan wonder can be made in under 10 minutes! Perfect for a quick but delicious WFH meal.