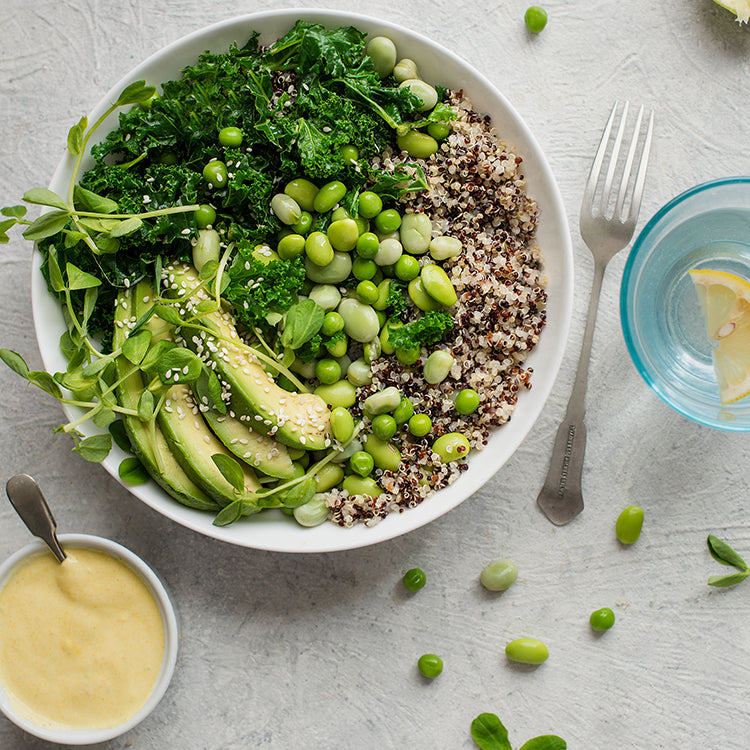 Ingredients
60g fresh kale, steamed
200g mixed beans (peas, broad beans, edamame beans)
1 avocado peeled and sliced
Pea shoots salad to garnish
Sesame seeds to sprinkle
1 x pack of ready to eat Quinola quinoa (250g)
Dressing
Ingredients
80g natural or greek yoghurt
1 heaped tsp tahini
20ml water
juices and zest half a lime
1/2 tsp turmeric
1/2tsp sesame oil
1/2 tsp salt
Method

For the dressing, mix all of the ingredients together in a separate bowl. Place the ready to eat quinoa in the base of 2 large salad bowls, arrange the kale, beans, avocado on top and drizzle the dressing on top. Then finish it off with sesame seeds and pea shoots - enjoy!