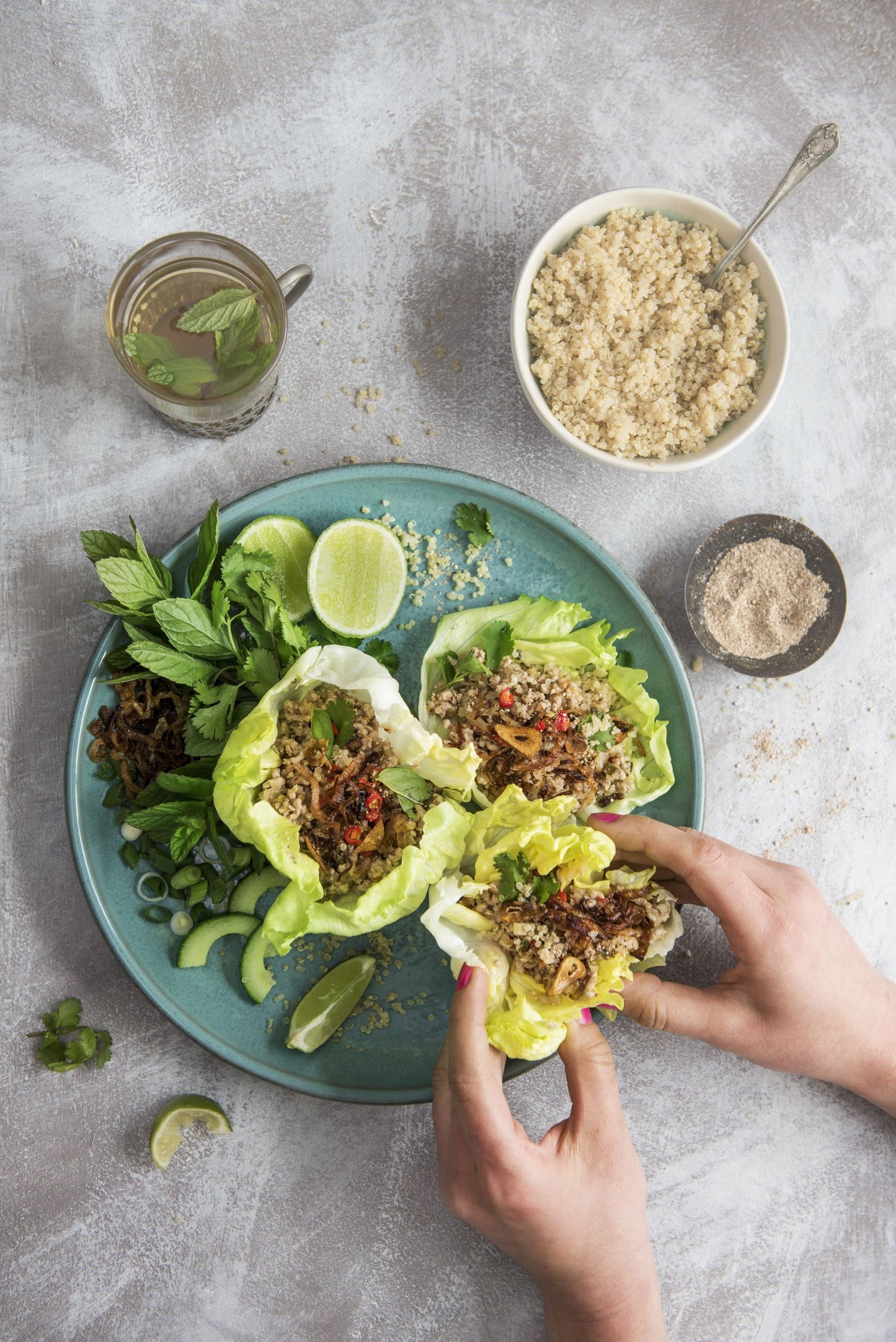 Ingredients
400g minced pork (or quorn mince for veggies)
2tbs sesame oil
1tsp chili flakes
1 fresh chili chopped (optional for extra spice)
1/2tsp sugar
1tbsp fish sauce
2 limes
4 onion/shallots chopped
2 onion/shallot sliced
4 spring onions
1tsp sesame seeds
2 garlic cloves sliced
Small bunch of fresh coriander
Fresh mint to garnish
Lettuce leaves such as iceberg to serve
25g uncooked quinoa
Cooked pearl quinoa


Method
Firstly make toasted quinoa. Place 20g uncooked quinoa in a frying pan on a low heat. Dry fry the grains until light brown it will take 5 minutes or so. Cool and place in a pestle and mortal to grind into a fragrant powder. Set aside.

In a small frying pan, shallow fry, sliced onions and sliced garlic, set aside.

In a large frying pan or wok fry the minced pork with sesame seed oil and chopped shallots until fully cooked. Add chili flakes, sugar, fish sauce, juice of 1-2 limes, chopped fresh chili, sliced spring onions and sesame seeds. Mix well.

To serve place the pork in the lettuce leaves cups with cooked pearl quinoa, sprinkle with toasted quinoa, sliced fried onions and fried garlic. Garnish with fresh coriander leaves, torn mint leaves and lime wedges.