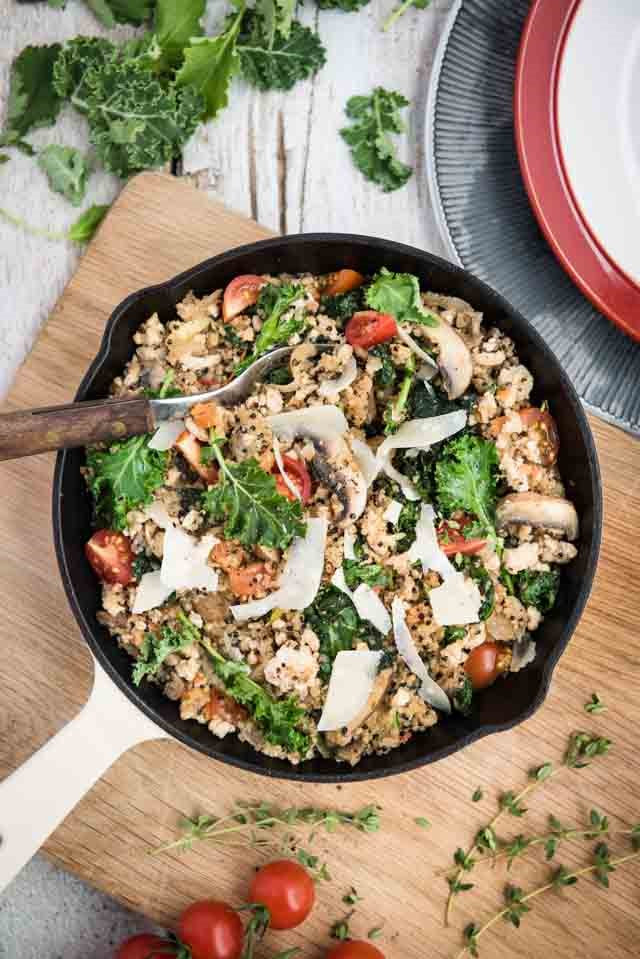 Ingredients:
1 tbsp olive oil
500 g  turkey breast
1 small onion thinly sliced
450 g sliced mushrooms
200 g baby kale leaves
10 cherry tomatoes cut into quarters
180 ml dry white wine
250 g cooked white Quinola or 1 pouch white & Black Quinola Express
2 tbsps minced fresh herbs (basil, oregano and parsley)
Some parmesan for garnishing
Salt and Pepper
Instructions:
Heat oil in a large pan over medium heat.
Add turkey, mushrooms, onions, salt and pepper.
Leave until turkey is cooked enough and mushrooms are golden.
Add tomatoes and kale and cook until kale is wilted.
Increase heat to medium high and add wine.
Bring to a boil until wine is reduced by about half.
Reduce heat to medium-low and stir in quinoa and herbs.
Serve warm with parmesan on top.