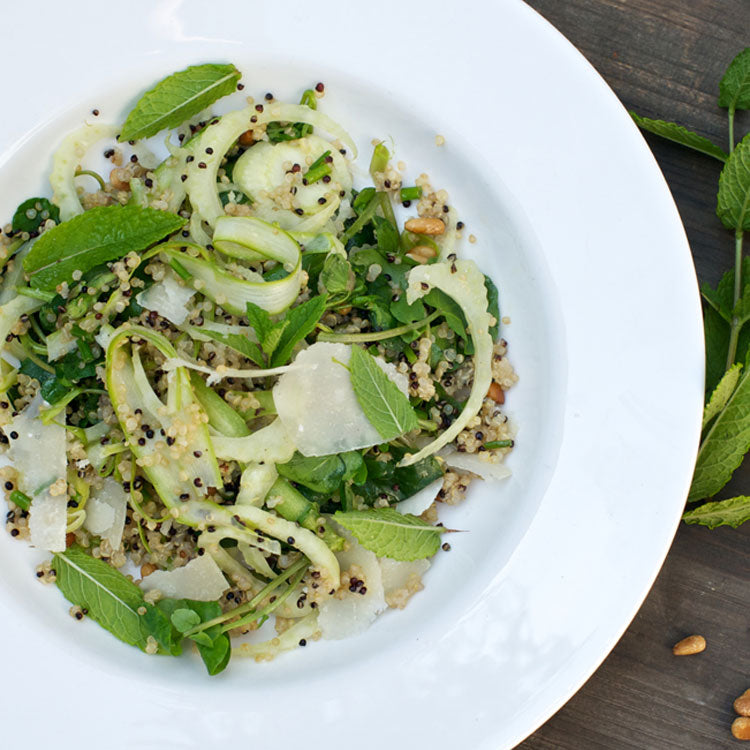 Ingredients
250g pre-cooked white and black Quinoa Express
1 bunch asparagus
1 trimmed medium fennel bulb
½ tsp Dijon mustard
4 tbsp extra virgin olive oil
½ tsp caster sugar
Sea salt
Black pepper
100g watercress
Mint, leaves picked
50g toasted pine nuts
2 tbsp chives, finely chopped
50g parmesan


Method
Serves 4

Finely slice the trimmed asparagus spears on the diagonal using a mandolin or potato peeler.

Slice the fennel bulb the same way.

Combine in a large bowl.

Mix the lemon juice, mustard, olive oil, sugar, salt and pepper to taste in a small bowl.

Pour over the asparagus and fennel shavings and toss well.

Add the watercress leaves, mint, pine nuts, chives, parmesan and quinoa to the salad.

Toss lightly and serve.