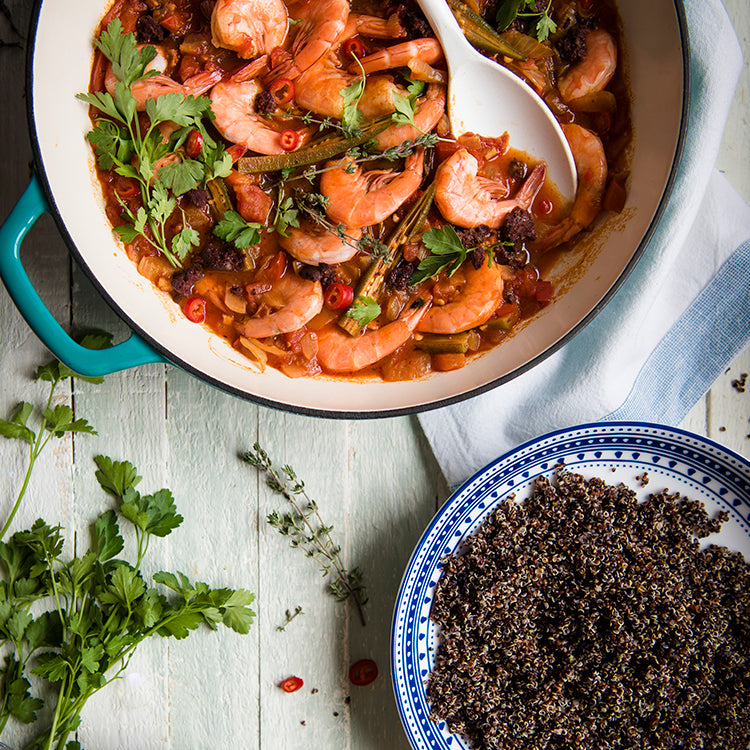 Ingredients
2tbs olive oil
1 medium onion diced
1 red pepper diced
1 celery stalk sliced
3 garlic cloves
1 or 2 red chilies sliced
3 thyme springs or 1/2 tsp. dried thyme
Parsley to garnish
400g tin chopped tomatoes
600ml chicken or veg stock
100 g okra halved
150g black pudding cubed
300g prawns
Salt and pepper to taste
Black quinoa to serve


Method
Heat the oil in a wide casserole pan or a big, deep frying pan.

Add the diced onion, pepper and celery and fry for a few minutes on a medium heat until onion is light brown and translucent.

Add the chopped garlic and stir well. Pour in the tomatoes and the stock, add the okra, thyme and chillies and simmer for about 15/20 minutes until thickened slightly.

In the last five minutes of cooking add the prawns and cubed black pudding, stir well and continue to cook.

The sauce should be nice and thick by now. Add some salt and pepper to taste and chopped parsley. Serve with Quinola.