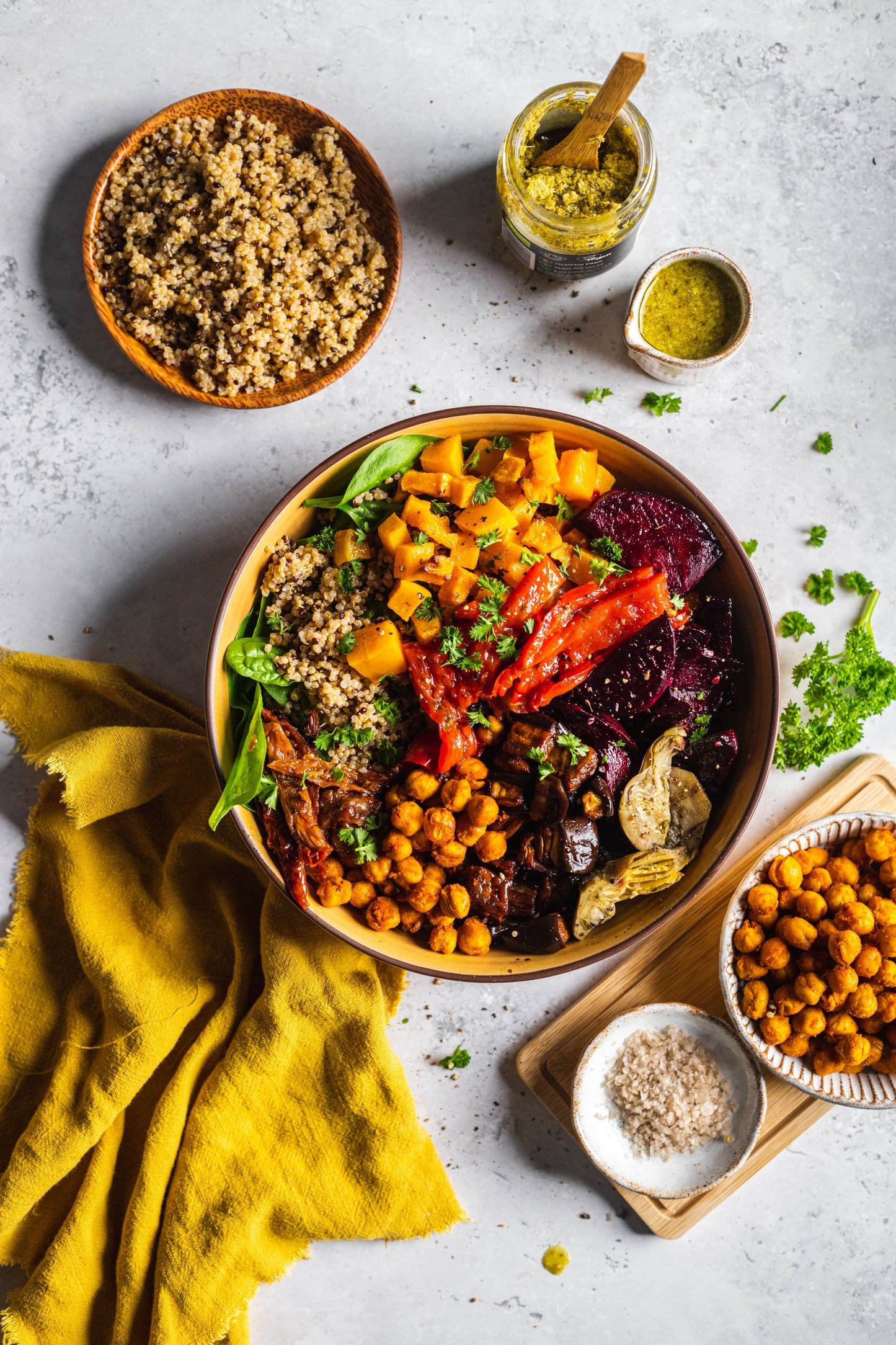 Ingredients
1 pack Organic Quinola - White & Red or White & Black
2 fresh beetroot, cut in wedges
1/2 butternut squash, cubed
A drizzle of Mr Organic Rapeseed Oil
2 tbsp Mr Organic Antipasti
A handful of fresh spinach
Mr Organic Basil Pesto
Squeeze of lemon juice
Fresh parsley and basil (optional)
1/2 aubergine, cubed
1 tbsp maple syrup
1 tbsp soy sauce
1/2 tsp Mr Organic toasted seasame oil
1tsp rapeseed oil
1/2 tsp smoked paprika
1/2 tsp turmeric
3 tbsp Mr Organic chickpeas, drained
Method
Start by placing the beetroot wedges and butternut squash cubes onto a lined baking tray.
Preheat your oven to 200C and drizzle with Mr Organic Rapeseed Oil, then roast in the oven for 20-25 minutes or until softened.

In the meantime, prepare your Quinola quinoa according to packaging instructions.

For the maple aubergine, cut your aubergine into bite-size cubes and place into a bowl. Toss with the toasted sesame oil, maple syrup and tamari, then transfer to an oven-proof dish in a single layer and roast for 15 minutes at 200C.

To create the spiced chickpeas, mix your chickpeas with the rapeseed oil, paprika and turmeric powder and roast in the oven for 15-25 minutes until golden or crunchy, depending on preference.

Lastly, combine the basil pesto and lemon juice to create a pourable dressing, assemble your quinoa, roasted veg and chickpeas in a bowl, and mix with fresh spinach leaves and Mr Organic Antipasti. Drizzle with your pesto dressing, sprinkle with fresh herbs, and you're
ready to serve up!