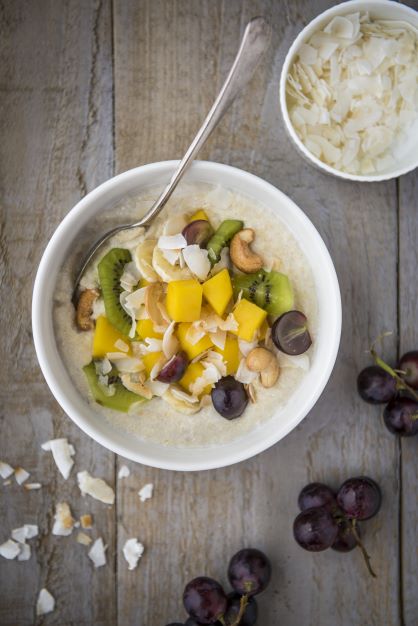 Quinoa Flakes are super simple to cook.
Quinoa Porridge
We recommend cooking in a saucepan on the hob because you can get the consistency to your exact liking. However, if you're short of time then using a microwave is equally as yummy. Whether you're using water or milk add 1 cup flakes to 2 cups liquid and keep an eye on the mixture whilst stirring. 4 minutes on the hob should give you a crunchier texture, whilst 8 minutes makes it super smooth. In the microwave it's around half the time, depending on which setting you have.
Smoothies
You can also eat them raw by adding into smoothies for some added protein. Quinoa is a complete plant protein meaning it contains all 9 essential amino acids needed for the body. It also has a low GI so it doesn't spike your blood sugar levels and keeps you feeling fuller for longer. This makes it great addition to your breakfast smoothie.
For those with a sweet tooth
OR, we love a good flapjack so often replace some of the oats with quinoa and cook in the oven in the same way you would oats. This adds a tasty crunch with some added health benefits to a tasty dessert (why not!).
Head over to our recipe page to find more inspiration for your quinoa flakes by clicking here.
Sold? Buy our flakes now.