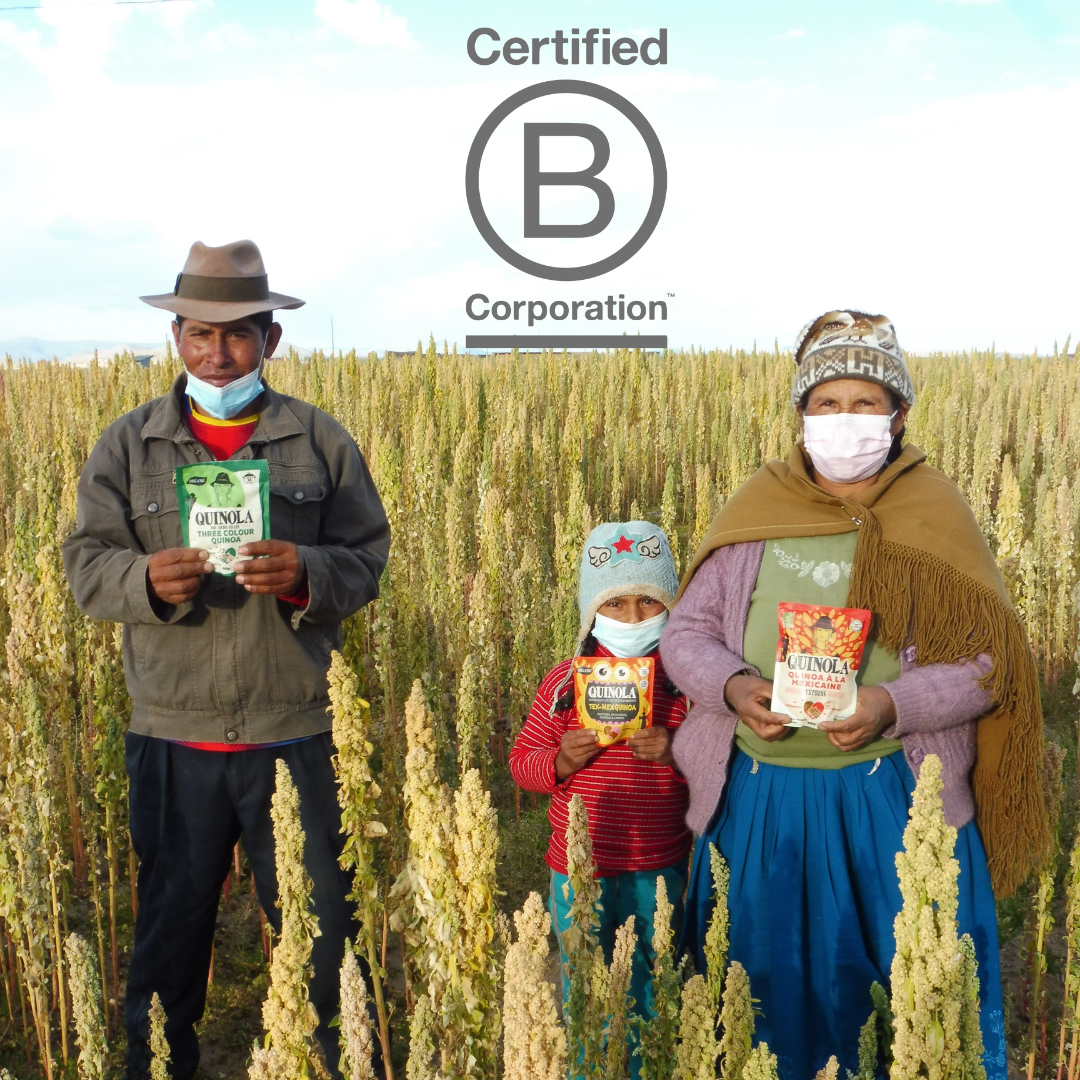 What does it mean to be a B Corp business?
Certified B Corporations stands for a community of 'better' businesses that considers the impacts of their decisions on their workers, customers, suppliers, community, and the environment. The B Corp logo is fast becoming a trusted symbol for ethical businesses as through thorough assessments, businesses accredited with this logo are proven to uphold the highest social and environmental standards.
We are so proud to say that we are a B Corp, joining a community of businesses using their force for good!
Our Journey to become a B Corp
It has by no means been easy. It's been a long journey since the Quinola adventure started just over a decade ago as a mission driven business, with a vision to set up a Fairtrade business and help small hold producers earn an acceptable income from their back breaking work. Since those origins we have expanded the areas in which we endeavor to have a positive impact and be a responsible business.  
By achieving B Corp certification, with a punchy 90 points, we now have a gold standard third party recognition of our endeavors to be positive to people and the planet.
What we do to be 'B'etter
We believe in humans and our capability to be generous to others. Over the years Quinola has been determined to continue this generous revolution. We try to be generously ethical. We have been sourcing our quinoa from the same cooperatives in Peru for over a decade and, as a fairtrade company, pledge to pay the farmers fairly. This also means we know the farmers very well which so we can guarantee the quality of the quinoa. Upon arrival, our grains are packed in a facility in France which employs 19 adults with learning difficulties, a community that has an unemployment rate of 94%.
We also try to be generously environmental. We offset our maritime carbon emissions, even though shipping is one of the most carbon efficient modes of transport. We work with a project in Peru called Pur Projet who aim to prevent deforestation and since launching in 2010 a total of 1.6m trees have been planted in San Martin, Peru. We are also plastic neutral through a partnership with RePurpose who collect single use plastic from the environment in India.
Our Goals to continue to tackle as a B Corp
Food, being one of humanity's largest environmental footprints, is necessarily one of the key areas that needs to be addressed in reducing our footprint on this beautiful planet of ours. By reducing our food carbon footprint by just 10% we can have the same impact as taking all planes out of the sky. And it is much easier to nudge consumers to slightly better food choices than to stop them travelling by plane. Quinoa has less than half the carbon footprint of rice and orders of magnitude less impact than meat per gram of protein.
Health is another area where we endeavour to offer better solutions. With over 25% of many populations being obese, a health pandemic raging across both the developed and developing world, there is an urgency to support better food choices. Type 2 diabetes now affecting close to 7% of the UK population so there is an urgency to remedy the situation, both to improve people's quality of life and reduce the huge negative externality of the costs this imposes on the NHS, with close to 9% of the NHS budget sucked up by treating illnesses related to diabetes.
We are a long way from perfect but achieving B Corp certification is a major milestone in us striving to become a better business, as well as a powerful guiding light to help us measure and continue improving our positive impact on the many fronts that business interacts with the world.
With our Purpose of 'Making Eating Right, Easy' we have very clear guidelines on how we can continue to improve and hopefully do our bit in making positive change.
Here's to the decade ahead!
Find out more about B Corp at www.bcorporation.uk
Find out more about what we are doing here https://quinola.com/generous-revolution/